We all know what lawn mowing is, but did you know that there can be quite a difference in the quality from one company to another and that this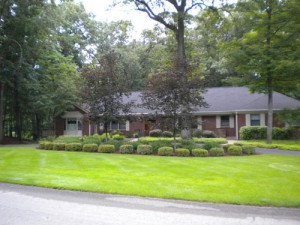 can have a major impact on how your yard and in turn your whole house looks. We are experienced lawn service professionals that know how to safely cut a lawn without causing undue stress on the grass. We take great care not to damage the landscape and soil or leaving messy clippings behind. Scholten Landscape currently offers lawn care to most of the Grand Rapids area.
Leaf Removal, Fall & Spring Cleanup
In some communities around Grand Rapids, the removal of fallen leaves is mandatory, and they can make quite a mess in any neighborhood. We provide expert leaf clean up services both in the fall when leaves are falling and again after the snow disappears.
Aerating
Aerating involves removing core plugs from the yard so that it better absorbs oxygen, fertilizers and other nutrients. In other words it helps these beneficial products reach the roots of your grass.
Fertilizing
It is well known that fertilizing can have a major impact on the health of your turf. We provide fertilizing services that can significantly improve the health and visual appeal of your yard.
Hydro Seeding
Our blend of starter fertilizer, seed, mulch and weed preventative is the best in the business.